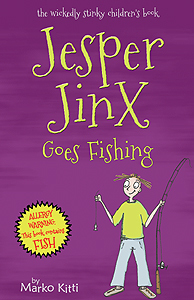 About the Book:
esper Jinx is eleven, and probably the unluckiest person in all of Puffington Hill. Everything he touches seems to end up in sweet disaster. Hence his nickname 'Jinx'.
The fourth book of Jesper's wonderfully wicked adventures is chock-a-block full of all kinds of fishing tales. There are mackerels to be sure, but also a creature a little bit furrier than a fish running loose on the beach. And it's up to Jesper (aka Detective J. Jinx) to save the day before it turns into a fishy nightmare!
ALLERGY WARNING: This book contains fish!
My Thoughts:
Jesper is back in yet another adventure and with loads of mischief up his sleeve. In this fourth installment of the book, we follow Jesper as he learns how to fish for the very first time and plays at being a detective (a.k.a Detective Jinx). Being afraid of worms, he has a difficult time baiting the hook. However, Jesper always manages to find ways to accomplish whatever he wants. I assume that those of us who are acquainted with him through the books are aware of the fact. In the midst of all this Jesper manages to lose all the fish that his best friend's grandfather, his best friend Oliver and him have managed to catch and later all his clumsiness and mischief results in him helping to catch the thief.
In this book however, we see a twist in the plot line when Jesper's dad goes to meet the scribbler with a copy of the book. The entire story, is written in the usual humorous style making us chuckle at Jeper's antics and his innate ability to  get into trouble. Jesper's mischievous ways and his relationship with his older sister are given a little more importance in this story (though I guess his sister and him will always end up fighting!)
As is usual with all Jesper's stories, Marko (a.k.a the scribbler as he is referred to in the stories) gives us a bit of insight into the thinking of one of the animals in the story. In this it happens to be the ferret, who is being taken care of by Jesper's sister at the moment. From the ferret's point of view, we gain an insight into his opinion about Jesper's sister and his reason for trying to escape.
Overall this is yet another treat for all fans of Jesper, and like the scribbler warns at the beginning of the book, Jesper is not aware that his stories have been published and by extension he does not know about my reviews. Please promise not to bring these reviews to his attention. Thanks a ton and I hope you enjoy the books as much as I do.