About the Book: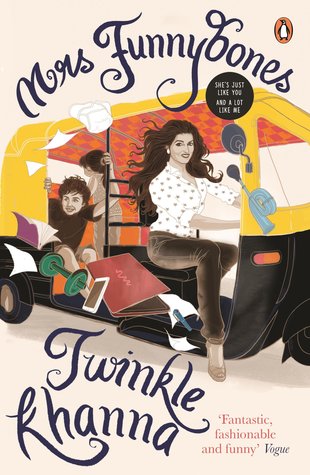 Good morning, it's 6 a.m. and I am wide awake because the man of the house has decided that he needs to perform a series of complex manoeuvres that involve him balancing on his left elbow. When I fell asleep last night, there was a baby lying next to me. Her smelly diaper is still wedged on my head but aside from this rather damp clue, I can't seem to find her anywhere. I could ask my mother-in-law if she has seen the baby, but she may just tell me that I need to fast on alternate Mondays, and God will deliver the baby back to me . . . Full of wit and delicious observations, Mrs Funnybones captures the life of the modern Indian woman—a woman who organizes dinner each evening, even as she goes to work all day, who runs her own life but has to listen to her Mummyji, who worries about her weight and the state of the country. Based on Twinkle Khanna's super-hit column, Mrs Funnybones marks the debut of one of our funniest, most original voices.
My Thoughts:
Oh my God! I definitely died of laughter!
This book will have you hooked and in splits from page 1. 'She's just like you and a lot like me,' is the tagline mentioned on the cover of the book. I must admit that there is a lot in this book that I cannot relate to but have enjoyed due to the author's self-deprecating humor, witty one liners and her colorful opinions on everything.

Each chapter, rather ingeniously labelled by a letter of the alphabet, talks about some aspect of the author's life, her experiences, or the experiences of people around her. Narrated in her signature style, most of the incidents are mundane day to day activities. The author talks about her children, her life as a mother, the humor she derives behind the choice of her name, incidents at work among many other things. She also talks of how a person's outlook of life changes once they have children but most of the points are based on her opinions.
An overall fun read, that can be finished in just one sitting as once started, there is definitely no putting this book down.