About the Book: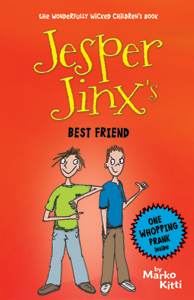 Jesper Jinx is eleven, and probably the unluckiest person in all of Puffington Hill. Everything he touches seems to end up in sweet disaster. Hence his nickname 'Jinx'.
Every great hero needs a sidekick who's ready to laugh at their silly antics. And Oliver has been just that for Jesper on countless pranks since the day they were born. But now Jesper's sister Melinda has set her sights on Oliver and even worse, he doesn't seem to mind.
Add to this horrible dilemma the fact that there is a heatwave in Puffington Hill. The air is now so hot that birds are falling from the trees and grandpas and grandmas are forced to wear bikinis. It all adds up to sweet disaster for Jesper.
How far is he willing to go to save his friendship with Oliver?
My Thoughts:
Our very own SOS (Silly Old Scribbler) is back with a new story chronicling another part of Jesper's life. However, I must warn you, there is a twist to this tale. We, along with Jesper, are given some extremely shocking news, Oliver and Melinda, together, on the same side, dating????? I will leave the plot description there and allow you fellow fans to contemplate! What is going on? They are all involved, somehow.
Written in his usual casual, carefree style, the author once again brings Jesper and his best friend Oliver to life. This story focuses more on their friendship, giving us a glimpse into how, once upon a time, they became friends. Beginning with the day they were born and progressing until we reach the current day, we are also taken on a short stroll down memory lane, as Jesper remembers all the pranks the boys pulled together.
The story has a different tone to it which sets it apart from the rest. It might seem a little mellow at first, but persist and I assure you that you will not be disappointed. We see the boys as children, but we do forget that they are growing and learning new things everyday, having new experiences.
Sometimes even I wonder how the Scribbler manages to get all these stories out of Jesper, but hey! I'm not complaining. These are extremely entertaining stories and there is even the hint of the next adventure. There sure is a lot happening at Puffington Hill! So please put down your phones and anything that may distract you and read yet another interesting chapter in the life of Jesper Jinx!